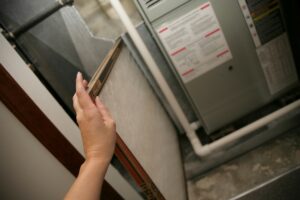 Your forced-air heating system has an air filter that requires your attention. Heating systems must cycle through a lot of air. That air can sometimes be inundated with dust, debris, and in the case of your furry friends, pet dander.
All of this material in your air can clog up the air filter and make it difficult for your heating system to run. You could see a decrease in your heating system's efficiency, poor performance, and even a system breakdown if you're not careful.
In this blog, we're going to take some of the anxiety out of this topic and cover air filters from start to finish. If you've never replaced your air filter, forgot your heating system had one, or if you're just concerned about the status of your system, then this blog is for you. If your heating system's air filter is broken, or you need some help with something else, you can always call us for heating repair in Hunterdon County, NJ.
Why Does My Heater Have an Air Filter?
The air filter is a vital component of a heating system. Contrary to popular belief, these air filters actually protect the sensitive interior components of the heating system, they're not primarily designed to improve your indoor air quality. This means that a clogged air filter is going to negatively impact the effectiveness, efficiency, and longevity of a heating system.
How Often Should I Change My Air Filter?
Air filters need to be changed every 1-3 months depending on certain factors. This is a good rule of thumb but consider changing it if your home has a unique factor to include.
For instance, for homeowners with pets, their air filter should be changed more frequently, like monthly or every two months, since pet dander will clog up that air filter faster than a home without pets.
However, if the heating system doesn't work that often because of a uniquely warm winter, then you can extend the time between filter changes to three months, if you're comfortable with it.
Can I Switch the Type of Air Filter My Heater Has?
Not really. Every heating system is installed with a particularly sized air filter that's made out of a specific material. You'll notice at the hardware store that filters come in all shapes and sizes, but not all of them will fit or work in your heating system.
Don't try and fix something if it isn't broken. If your system was professionally installed with a certain air filter, we recommend replacing it with one of the same size and material to avoid problems in the future.
Does an Air Filter Improve My Air Quality?
While the air filter of your heating system isn't designed specifically to improve your air quality, it doesn't hurt it! In fact, you might see less dust and pet dander in your home after cleaning out the air filter.
For customers that are dealing with a dust problem, or some other contaminant that the air filter just won't catch, consider investing in a more high-quality air filtration system. Air filtration units can target contaminants and improve your air quality, while the air filter in your heating system protects the heater.
Contact Schaible's Plumbing & Heating Inc. if you need help with your air filter or heating system.