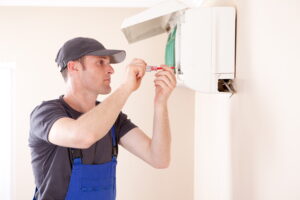 There's no question about it: AC maintenance costs money. However, skipping out on air conditioner maintenance can cost you more than if you just made the investment and take care of your air conditioner as the years go on. You may not even realize that you're spending more until it's too late.
If you're on the fence about air conditioning maintenance in Flemington, NJ, keep reading. We're breaking down the expense of skipping out on AC maintenance so that you understand why the investment is so important for your air conditioner and your home. It's definitely a decision that you won't regret.
Adding Up the Costs
There are two types of costs associated with skipping out on AC maintenance. The first cost is not related to money. It's the sacrifice you make in comfort and peace of mind when you skip out on AC maintenance. You're left wondering about the what-ifs and thinking about every unusual sound or smell that comes from your air conditioner.
When you have a member of our team come out and assess your air conditioner, we can either give it the stamp of approval that everything is OK or fix any minor problems that we notice. Either way, you're left with the peace of mind that your air conditioner is working at the best that it can.
You also reap the benefits of improvements to efficiency and operation that result in more comfortable temperatures, better humidity control, and lower energy bills. 
The other cost of skipping out on AC maintenance is financial. You will end up spending more on your energy bills and on repairs down the road when you skip out on AC maintenance.
The whole goal of AC maintenance is to catch problems while they are small so that you can prevent larger problems from ever happening. Regular maintenance also offers the added bonus of helping you to keep energy efficiency that you would otherwise lose as time goes on.
Potential Savings
We've already highlighted the savings that you will enjoy on your energy bills and future repairs. But there's another way that you can save money. If your air conditioner is well-maintained, it's going to last longer. And if your air conditioner lasts longer, that means you won't have to make the huge investment to replace it as soon as possible.
Even though you're only postponing the purchase, you're still getting more out of your current investment. And if you do the same for your next air conditioner, you'll get more life out of it, too.
You may also have a better idea in advance of when you will need to replace your air conditioner so that you can plan ahead, save some money to put toward it, and not be faced with an unexpected surprise breakdown. While this isn't exactly saving money, it is saving you the headache of scrambling to make a last minute AC replacement following a breakdown.
Contact Schaible's Plumbing & Heating Inc. to schedule an appointment for air conditioner services that get the job done.