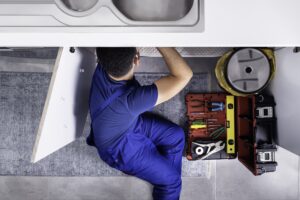 The plumbing in your house is among the most sturdy materials that you can find. However, even the best plumbing won't last forever. And when you're faced with plumbing problems, you may be deciding between repair or replacement.
This can be a difficult decision to make because you don't want to overhaul anything completely if some of it is salvageable through repair. But there comes a time that you do need to replace your sink plumbing in Hillsborough Township, NJ. Our team is here to help you make that determination with our expert plumbing knowledge. Keep reading to learn more about when you may want to repair versus replace your sink plumbing.
Expert Consultation
You can think about your sink plumbing all day long and weigh the pros and cons of repair versus replacement. And in doing so, you can probably come up with at least a few points to support each option. But the bottom line is, you just don't know enough about plumbing to make that decision.
That's what our team is here for. You can schedule a consultation appointment with us, and we can inspect your plumbing and offer our expert opinion. As part of our consultation, we will ask you questions about the problems you're dealing with and any past solutions that you have tried.
When to Repair
If problems are relatively minor or only cosmetic, you may be able to get away with repairs. We understand that you want your sink plumbing to look nice, but if it is out of sight, that looks really don't matter. Even if your plumbing is old, and looks old, it may still be functioning just fine.
If you're facing a problem like a leak, we can repair it and go from there. We never want to do too much just for the sake of doing it. Of course, if a repair does not last, we guarantee our work. We can come back out and offer another consultation based on your continued problems, and then talk to you about your replacement options.
When to Replace
If it seems like you are calling us out all the time for plumbing problems with a particular sink, it's probably time to overhaul it and install a completely new set of plumbing in that area. Examples of persistent problems may include clogs that won't go away or leaks that continually pop up. There is only so much repairing you can do if the problem keeps coming back.
If the plumbing in your home is 50 years or older, that's another good indication that it's time to begin considering replacement. And if you're experiencing problems at one sink, there's a good chance that other areas of your home will soon follow.
While you don't have to overhaul all of your plumbing at once, it's a good idea to pay closer attention to other plumbing fixtures in your home so that you can stay ahead of any additional problems.
Contact Schaible's Plumbing & Heating Inc. to schedule an appointment for air conditioner services that get the job done.