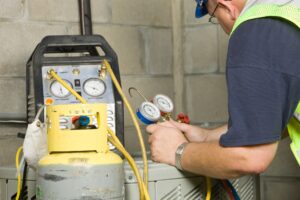 As your air conditioner nears the end of its lifespan, it may begin to have more frequent problems. When you schedule an AC repair appointment, you may be wondering if a replacement is a better idea. How much longer will your air conditioner last? The good news is, our team can help you make this determination.
After completing an inspection, we can offer our opinion of the overall well-being of your air conditioner. You can keep reading to learn more about AC repair in Somerville, NJ, and why you might want to replace your air conditioner instead of repairing it.
When to Replace Your AC
First, let's talk about when you might want to replace your air conditioner instead of investing in repairs. If your air conditioner is close to 15 years old, it may be time for a replacement. 15 years is the average lifespan of an air conditioner, and while yours may last longer, there's also a good chance it won't.
One factor we take into consideration when weighing the pros and cons of repair versus replacement is the cost of a repair. If any single repair is up into the thousands of dollars, we may talk to you about a replacement instead. A good rule of thumb is that you should never spend more than 50% of the cost of a new air conditioner on any repair. This total could be a single repair or a series of repairs over a short period of time.
Having to replace a major component in your air conditioner is also a red flag that the system is at the end of its life. For example, if we have to replace the compressor motor, that's a very expensive investment. There's a good chance that if your compressor motor went bad, it puts strain on other areas of your system, potentially leading to more wear and tear. This could mean that your air conditioner will have a shorter lifespan as a result. Anytime you have to replace a major component, we recommend investing in an all new air conditioner.
When to Repair Your AC
You should always invest in repairs for your air conditioner if it is still under warranty. Some of the repair costs may even be covered by the manufacturer's warranty so that you don't have to spend anything out of pocket. Utilizing your manufacturer's warranty for that first 10 years is great for your air conditioner because many things that go wrong will be covered.
We also suggest making AC repairs if they are not too expensive. Minor repairs are actually a great investment in the longevity of your air conditioning unit. When you make smaller repairs all along, you can extend the lifespan of your air conditioner far past what is average. Of course, if you begin to notice a pattern of having to repair the same components over and over again, that is a red flag. You may want to have our team take a closer look at what is causing the repeated problems.
Contact Schaible's Plumbing & Heating Inc. to schedule an appointment for air conditioner services that get the job done.